Alaska Fishing Lodge and Fishing Charters
Our Alaska Fishing Lodge – As our guest, within minutes you will access several amazing Alaska salmon and trout fishing rivers. You'll enjoy affordable, comfortable, full service lodging and be served with hometown hospitality.
Alaska Fishing and Lodging Packages
A Great Day on The River
Your Home For Alaska Adventure
Get away for a rockin' Alaska salmon fishing experience with Deshka Landing Charters and Lodge in Willow, Alaska. Featuring world class freshwater river fishing trips in Alaska's Big Susitna drainages. Fishing with Deshka Landing Charters & Lodge truly is an Alaskan adventure of a life time. They will take you jet boating into the amazing waters of the Big Susitna, Deshka, and other tributaries known for spectacular beauty and world class salmon fishing.
The trip begins from our lodge located at Deshka Landing in Willow, Alaska. Within minutes of leaving the boat launch, you will be right in the middle of some of the best fishing anywhere in the world.
Why Book With Deshka Landing Charters & Lodge?
Daily Salmon Fishing Charters

Fishing & Lodging Packages

Custom Charters

Top Quality Rods and Reels

Fish Cleaning Included

Licensed and Insured

Jet Powered River Boats

Fish Processing and Freezing Available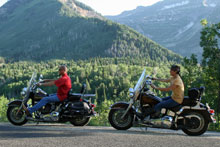 Jim and Maria recently purchased Deshka Landing Charters & Lodge and are excited to be in Alaska.
Both Jim and Maria have a passion for traveling.They enjoy the outdoors and scuba diving. Jim is an avid fisherman and hunter. Maria loves motorcycling and quilting.
"OUTSTANDING PLACE TO STAY! It's remote and peaceful! The cabins are extremely clean and very comfortable. The lodge is AMAZING, its make the stay so relaxing, cozy and convenient! The Bathrooms are also amazing. The amenities were one of kind! If you love to fish, this is also the spot! You literally walk out your cabin door and get in the boat. Captain Jim does the rest! I have fished all over the US, and this was the best fishing experience with guide to date, Jim was great! Also, very kid friendly, tree forts, games and nice lawn area for any activities that you may want to bring! If you plan on going to Alaska and don't put this on your list, you are missing out!"

- Derek J
"Jim knows right where to take you, he is one of the best guides I've ever fished with; he'll get you the opportunity to limit out on salmon every morning."

- Heath P
"I would recommend this to anyone who wants to experience Alaska off the beaten path"

- D.L.
Fishing & Lodging Packages
Our clients rave about the added value of selecting our multi-day lodging and fishing packages.
This value is seen in extended fishing time, quality relaxation, and a true Alaskan experience at our beautiful Alaska fishing lodge in Willow, Alaska.
Our fishing lodge is located within walking distance of the boat launch. This means our multi-day charter guests enjoy maximum fishing time by eliminating hours of travel. Our proximity to the rivers means more time with lines in the water catching Alaska salmon & trout.
After a long day of Alaska salmon fishing, what could be better than enjoying a fine meal and kicking back next to the fireplace and talking about the day's adventures?

CHECK AVAILABILITY
Our Alaska fishing lodge has plenty of outdoor space to spread out and relax with outdoor fire pits, sitting areas, a horse shoe pit, and a game area.
As an on-site guest, you are only minutes from the water meaning you can capitalize on a quality experience and not have to rush through the day. You can fish as hard as you want or choose to take it easy and enjoy the scenery and accommodations.
We have multiple cabin options which makes our lodge great for families, groups, and corporate retreats. Meals are included and fish processing and freezing are available on site.
Salmon Fishing on The Deshka River
The Deshka River is one of South Central Alaska's best salmon fishing streams. The Deshka boasts large returns of king (chinook) salmon and silver (coho) salmon as well as pink (humpy) salmon.
King salmon begin to arrive in mid May and the run develops into the peak of the season during the month of June. The Deshka River is best known for great king salmon fishing and it provides our anglers with ample opportunity to catch an Alaska king salmon. These salmon are the largest of the 5 species of North Pacific salmon that run past our lodge. They average 18-25 pounds and can range up to 50 pounds.
Not far behind king salmon in popularity are the feisty silver salmon. They begin to arrive in good numbers to the Deshka River around mid July. Silvers are fun to catch and are typically good biters that provide lots of action. These fish are great fighters on light tackle and are very good eating.
ALASKA SALMON FISHING LODGE NEAR ANCHORAGE ALASKA